Oregon Inlet Campground – our last stop in the Outer Banks
Oregon Inlet Campground
Our last stay in the Outer Banks of North Carolina was Oregon Inlet Campground, another National Park Service campground part of the Cape Hatteras National Seashore. Like Ocracoke and Frisco, this campground has no RV hook-ups, and the bathroom showers are unheated.
This campground is relatively flat, and you will get a little bit of noise from the highway. But it also has easy beach access. And the campsites are decently spread out.
After we got settled, we checked out the beach.
Kevin and Paul got in the water.
And Paul busted out the boogie board. (I'm probably going to get in trouble for posting this.)
And here are a few more photos from around Oregon Inlet Campground. Not bad.
Activities Near Oregon Inlet Campground
Wright Brothers National Memorial
When in the Outer Banks, you've got to go check out where the Wright Brothers had their first successful flights in 1903.
But first, let's take a moment to shame this person on the internet for parking their car in a spot meant for buses, RVs, and trailers.
The main visitor center was closed when we went, but they did have a temporary facility set up. The updated facility is due to open in the summer of 2018.
This boulder marks the takeoff spot.
A medallion marks the 100th anniversary of the first flight.
And here's the actual memorial.
Keep in mind that unless the new visitor's center is open, there's pretty much no shelter at this site. So it's likely to be baking hot in the summertime.
Jockey's Ridge State Park
At Jockey's Ridge State Park you'll find the tallest natural dunes in the eastern United States. There are people in all of these photos to give you an idea of scale.
Signs at the park warn you of the potential of hot sand. Try to visit on an overcast day like we did and you won't have that problem.
If you're feeling adventurous, you can try hang-gliding here. Or, bring a kite. The top of the dunes is the perfect place to fly one. Sand-boarding is also an option during certain times of the year.
Bodie Island Light Station
The Bodie Island Light Station is ridiculously photogenic just like Cape Hatteras and Ocracoke. It was closed by the time we got there, but that didn't stop us from getting these fantastic photos.
Vegan Eats Good and Bad
Outer Banks Brewing Station
We popped into Outer Banks Brewing Station for lunch. The beer flight was a full 20 ounces of beer.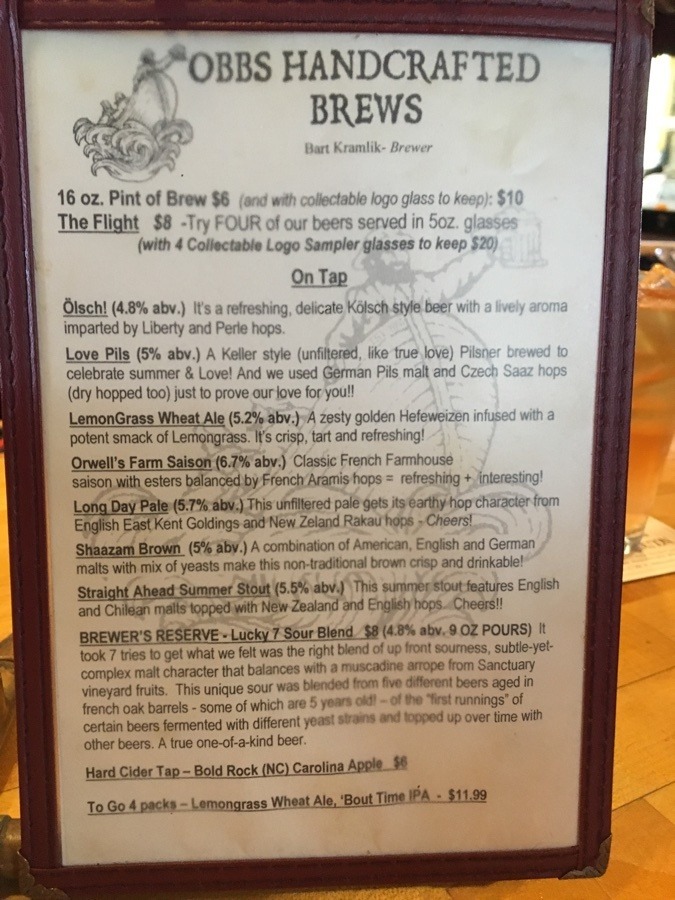 The veggie chipotle burger patty itself is vegan, and they were happy to substitute avocado for the avocado aioli to make the whole thing vegan. And they didn't skimp on that avocado! File this one under "good" vegan food.
We were there during the lunch menu. On the dinner menu, there's also a coconut tofu dish.
Outer Banks Brewing Station is the first wind-powered brewpub in the U.S. That's pretty cool! We always love businesses using alternative energy.

Weeping Radish
As we headed away from the Outer Banks, we passed by Weeping Radish, North Carolina's oldest microbrewery. We decided to take a chance and stop there for lunch.
The best part about Weeping Radish was this sweet goat that was outside.
The vegan options turned out the be a pretzel, fries, and a dull salad. And the pretzel Kevin got was dry and stale for some reason. Mine was fine. The beer was okay though.
It was pretty cool that you could see the brewery. But sadly the food was pointless for a vegan.
If you'd like to watch a video about our visit, The Motorhome Experiment has got you covered!
So that ends our time in the Outer Banks! Our favorite by far was Ocracoke. Have you been to the Outer Banks? Where did you stay? What did you think?
About the Author
vegan. full-time traveler. rv dweller. food lover. cow petter.