Table Rock State Park in South Carolina
You know how most seasoned RVers will recommend that when shopping for an RV, you should try to go as small as possible? Table Rock State Park in South Carolina made us wish we had a smaller RV.
Honestly, what size RV you need depends on your style of camping. If you want to stay in state and national parks, you'll have an easier time getting a space with a smaller RV. Many of these campgrounds only have a few sites that'll fit a rig bigger than 25′ if any at all.
Our Site at Table Rock State Park
We were fortunate to get site ten at Table Rock State Park. It's close to the entrance to the loop. I'm not sure we would have been able to get in or out of any of the sites further up in the campground.
From site ten you can leave without traveling the whole loop. That said, it wasn't even close to flat, and we had to do some crazy things to get level.
Carrick Creek Trail
We spent a little time dodging rain at Table Rock State Park, but eventually, the weather was nice enough for a hike. We weren't quite up for the trek all the way to Table Rock, so we took the Carrick Creek Trail.
The Carrick Creek Trail was a little less than 2 miles and involved a little climbing. It is considered a moderate hike. It wasn't too bad, but there was some elevation change.
But the work was worth it. The trail followed the creek a good bit of the way, and you were treated to loads of little cascades and waterfalls. Also, for summer visitors, the trail was well shaded.
At specific points along the creek, people had worn bathing suits and gotten in the water. The water was still a bit cold though even in May. Also, we saw two snakes by the water so be careful.
Sassafrass Mountain Views
Sunday we drove up to catch the view from Sassafrass Mountain. It was a twisty, turny, hilly drive but worth the vista.
Sassafrass Mountain is the highest point in South Carolina, but just barely. There's a parking lot with a viewing platform that's okay, but what you want to do is follow the gravel road just beyond the parking lot to the top for 360º views.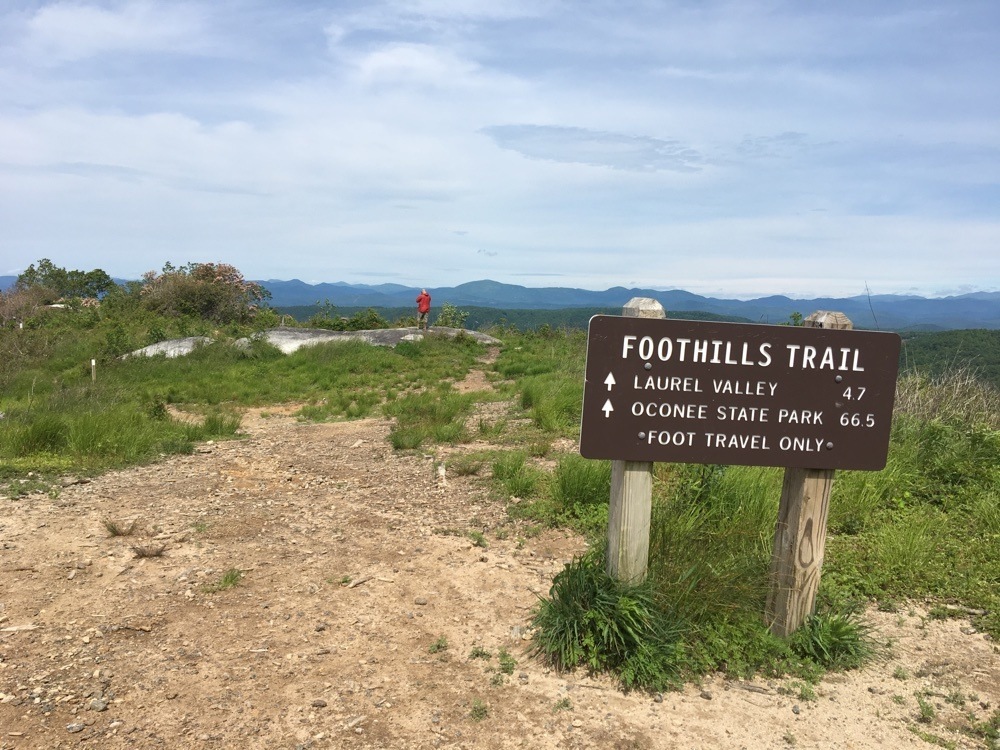 There was another trail close by that we followed for a bit to see what it was all about. There we found a marker for the South Carolina/North Carolina state line.
After that, we went looking for Twin Falls or Reedy Cove Falls but couldn't find them. One gate was closed. We saw a bunch of people taking another road, but then they were turning around. We couldn't see what was happening. The lot was probably full, or the recent rain could've damaged the road. Oh well. It was still a beautiful drive.
Sadly this is about all we got to see of South Carolina. We had places to go and people to see! Don't worry; we'll be back.
About the Author
vegan. full-time traveler. rv dweller. food lover. cow petter.