Casino Camping and First Stop in the Everglades
First Time Casino Camping
After leaving the Florida Keys, finally, we enjoyed another first – casino camping! We heard from Brandon and Kerensa of Drive Dive Devour that the Miccosukee casino allowed RV overnights in their lot. Cool! It's right on the corner of Krome Avenue and Tamiami Trail so convenient to our next destination.
We pulled in and tried to figure out where to park. There were trucks all the way in the back of the lot, but that area was full. RVs had already staked out their claims along the perimeter. So we had to pull straight down a row of parking spaces and hog a bunch of them. Before we settled, I asked the casino security guy if we were okay to camp there. And he said it was no problem.
After we got parked, we headed in to sign up for their player's club. It's free and gives you $30 to gamble with each. I think Kevin had lost his money before we walked away from the counter somehow. I played the Michael Jackson slot machine and came away with a little over $60. Not bad! I cashed out, and we didn't go back into the casino.
What you're supposed to do is go inside and register every day. They give you a slip of paper to put on your windshield. Then if you want to stay another day, just get another slip. We learned all this from The Motorhome Experiment, well after the fact. We stayed two nights and never did that. Nothing bad happened, but you should probably follow the rules and do that. It only takes a minute.
That first night we were tired and wanted quick food, so we made a run for the border. It was also Kevin's first crunch wrap experience.
For being in a parking lot, the sunset wasn't bad, either.
During the day there was quite a bit of construction noise. And there's a shooting range you can hear. At night, the trucks were loud coming and going, but that's to be expected. The casino patrons weren't a problem for us, but apparently, things can get rowdy in the parking lot at certain times, especially weekends. So keep that in mind. We did have screaming fast 4G internet though.
Side Trip to Coral Gables
The reason we stayed two nights at the casino is so we could meet an old Atlanta friend for lunch in Coral Gables. Rob suggested Choices Organic Cafe. Its focus is organic, plant-based, healthy food.
Into the Everglades
We left Miccosukee and headed west on the Tamiami Trail. It runs from Miami to Tampa via Naples. The waterways alongside it are a never ending parade of alligators and long-legged water birds. Beware, though. It contains some of the worst drivers I've seen. And I've driven in Atlanta and Mexico City.
Beware, though. It contains some of the worst drivers I've seen. And I've driven in Atlanta and Mexico City. It's only a two-lane road most of the way. And if you aren't going 20 over the speed limit, people feel the need to pass you, whether it's safe to do so or not. And passing us when we're towing the car is like passing three cars. We saw several near head-on collisions. It was stupid.
Monument Lake Campground
We'd hoped to stay at Midway campground because it had hookups but they were full. So we continued to Monument Lake, part of Big Cypress National Preserve. Monument Lake has no hookups, no dump station (but you can use Midway's) and the bathrooms are just vault toilets with no showers. But, it's a small campground with campsites situated around a small lake. And there's a big ol' cell phone tower right next to it.
We ended up staying at Monument Lake twice, but I'll get to that in another post. The first stay, our campsite was parallel to the lake. So we had a lakefront patio. And the breeze would flow over the lake and through the house. So it didn't get too terribly hot in there. Monument Lake also treated us to many lovely sunrises and sunsets. And there were large flocks of small birds that would dive down to take sips from the lake. There's supposed to be at least one alligator in the lake, but we never saw him.
The haze you see in the photos is from some controlled burns. Long after we left, there were some out of control fires which forced the park service to close several campgrounds in the area. Monument Lake is due to reopen in August of 2017.
What about the bugs?
We weren't sure exactly what to expect when we decided to camp in the Everglades. We'd had friends run out of Flamingo Campground early because the mosquitos were so out of control. But honestly, we had very little trouble at Monument Lake. I'm not sure if mid-January is a magical time or we were just lucky.
Tornado Watch!
Our first stay at Monument Lake is also where we encountered our first severe weather. There was a terrible storm overnight that made it feel like the RV was going to blow over. And I swear it was a tornado watch, not a warning. But we ended up staying in the RV, and we didn't die. So that was pretty cool. We also didn't get any sleep.
Groceries
Stock up on groceries before you plant to stay at Monument Lake. I think it's about a 45-minute drive to get to a decent grocery store.
Gator Hook Strand
Monument Lake is close to several nature trails. We rode our bikes over to the loop road to check out Gator Hook Strand in the Big Cypress Preserve. Unfortunately, we didn't get very far down it before it was clear that you'd probably want to be wearing waders. The little bit we saw was pretty cool though.
Even though the drivers on the Tamiami Trail are terrible, biking it wasn't too bad. There's a little bit of paved shoulder and a larger grassy one beyond that. It's the best way to get a good look at all the alligators sunning along the banks. Now the loop road is terrible if you have a road bike. I ended up breaking a spoke riding it. So I wouldn't do it unless you have a bike with fatter tires more equipped to handle it.
Airboat Ride
Taking an airboat ride was on Kevin's bucket list, so that was on our "must do" list. And now having done it, I'd say it should be on yours too.
We called and made a reservation with Tigertail Airboat Tours. You have the option to take a private or group tour. We opted for the less expensive group tour, but it ended up being just us anyway.
The experience is hard to describe. Just a few minutes after pulling away from the dock you're in the middle of water and grass and sky and alligators.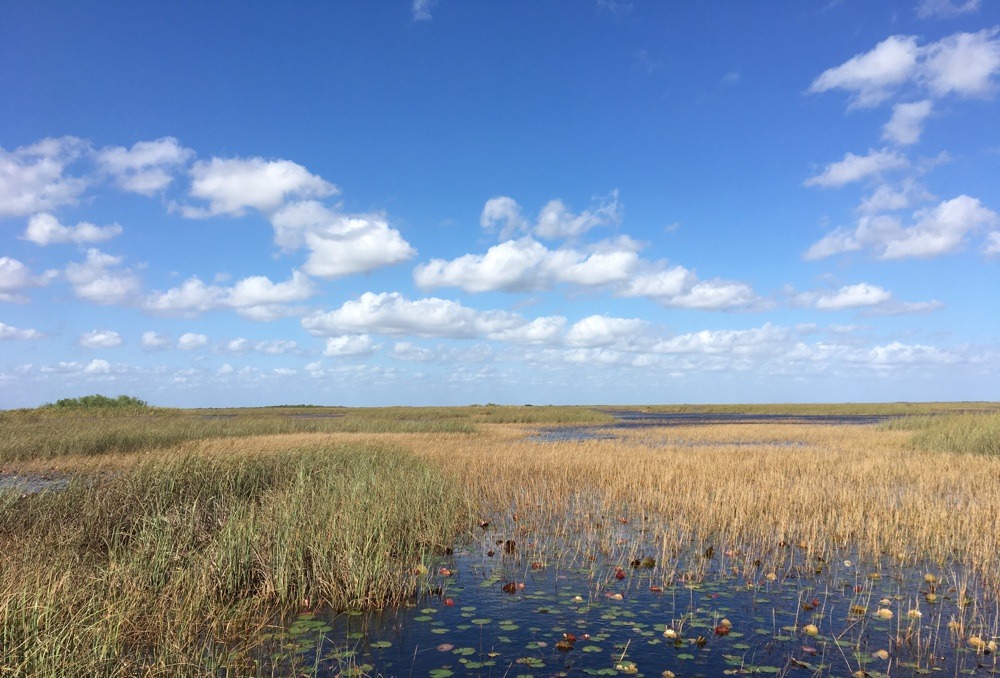 We visited three islands on the tour. The first one was close to the start, and we just stayed on the boat. Our guide gave us some information about where we'd be going and probably information that was interesting, but I forget because that was five months ago.
The next island we visited was a mini wildlife rehabilitation facility for nuisance, injured and other animals. It used to be the Tigertail family's hunting camp. The Department of Natural Resources brings them animals like alligators found in neighborhood ponds or illegal exotic tortoises. If possible, the animal is eventually released. They had alligators, a tortoise, and a wild hog when we visited.
The Tigertail family still owns the next island, and they still hold family gatherings there. The family used to live on the island before the Tamiami Trail was built. Our guide told us about the different native fruits and other foods they would eat. There's a nice little boardwalk around the island. Our guide can perfectly imitate a baby alligator. He demonstrated by doing it and then within seconds; a large female alligator was right by the fence looking for the baby. Yikes!
In between checking out the islands, we just cruised around the Everglades. We saw a couple of individual alligators, but the coolest thing we saw was a nest of babies. I'm not sure how he spotted these squirmy worms while we blew by, but he did.
Seriously though, it looks like another world out there. We highly recommend you do this if you're anywhere near the Everglades. It wouldn't be an unreasonable side trip from Miami.
Kirby Shorter Roadside Park
Across Tamiami Trail from Monument Lake and just west of it is Kirby Shorter Roadside Park. It's a boardwalk through the swamp where you can see loads of cypress trees and, of course, some alligators. We biked over there from the campground, but there's also a parking lot if you want to drive.
By the way, here's an alligator chillin' right by the entrance to Monument Lake Campground. He could have easily walked on over and chomped on my foot.
While we were at Monument Lake, our friend Jill Sessa was trying to surprise us but ended up having to dry camp at Shark Valley (another post, I promise!) because she was driving at night and her tail lights decided not to work. So she met up with us the next day, and after helping with some of her issues, we caravanned down Tamiami Trail until we parted ways. At least we got to have one more quick visit.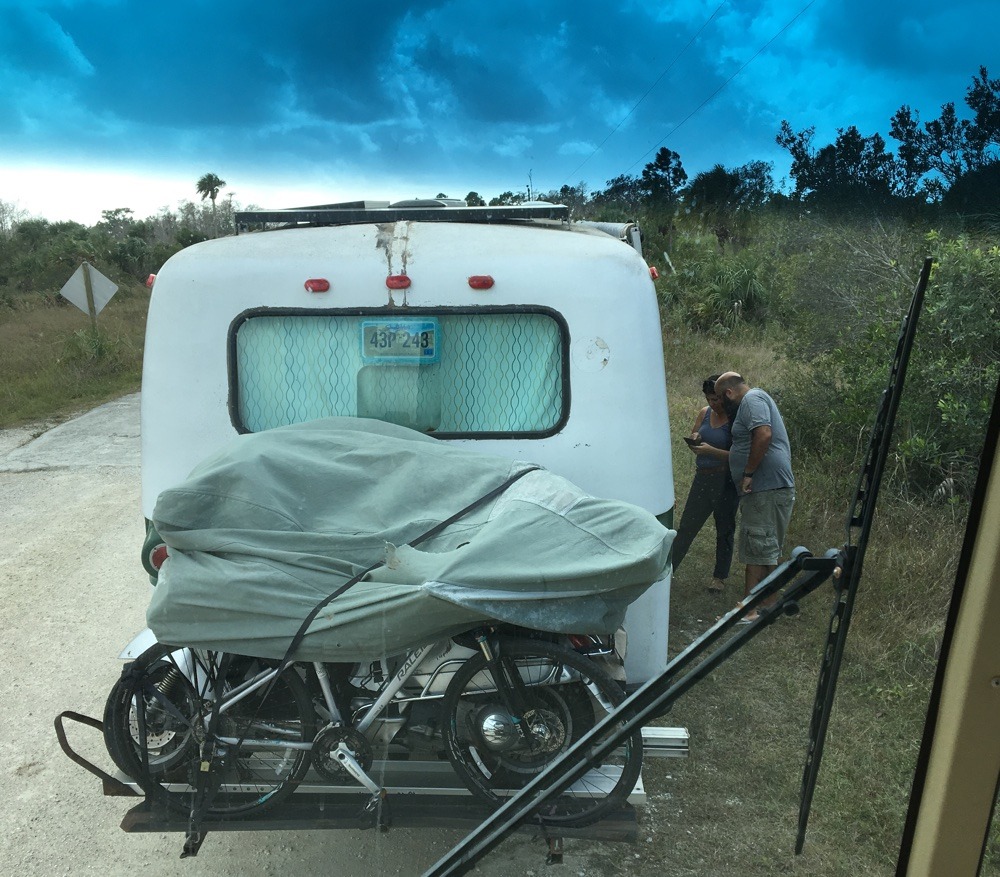 This seems like a good place to cut this off. The Everglades are too big to fit in one post!
About the Author
vegan. full-time traveler. rv dweller. food lover. cow petter.