Pros and Cons of Bahia Honda State Park
Yeah, yeah, Bahia Honda State Park is known for its awesome beaches, but I'm going to get right to the important information – where the heck can you get a 4G signal at Bahia Honda?
Mobile Reception
Where you won't find a 4G signal at Bahia Honda
Let's start with where you can't get it – in the campground, unless you have boosters. And even then it's spotty. For some reason, the whole campground is a dead zone. And it doesn't seem to matter which carrier you have. People with Verizon, AT&T, and T-Mobile all had problems.
Where you will find a 4G signal at Bahia Honda
So where CAN you find a signal? There's a small beach just to the south of the marina and on the west side of the park. The beach itself is small but lined with covered picnic tables that make great offices for the day. And our Verizon and AT&T signals were strong there. So each morning we'd get up and ride our bikes over there and camp out and get work done. Working here also encouraged taking breaks to walk along the beach or wade in the water. Not a bad deal.
The Sites
We were camping in site two which was HUGE but a little weird. You could've fit 2-3 big ol' class A motorhomes in the spot, and some parks would've. But the electricity was on one edge of the site and the water on the other. We have a pretty long hose, but not that long. Luckily we were almost full of water, so we didn't even bother hooking up. Not all of the sites are like this, though.
Wildlife
We regularly had groups of White Ibis come by and visit our campsite. They're also plentiful all around the park and more than happy to take snack donations. We didn't feed them, but plenty of people did either on purpose or by being sloppy.
Out under the bridge on the western side, there's a little rock shelf where people fish. We walked out on it in the morning and saw a manatee by the rope. Yay! We also saw manatees regularly in the marina. One day we saw a ranger by the marina and asked him if they see manatees in there. He looked at us strangely and said "sure." You could tell he was thinking "Stupid tourists!" So now we joke around that yes, you will see manatees, but you'll want to look out into the water. That's where they tend to be.
We heard many reports from people that fish that they'd had their catch stolen by bull sharks. And one morning Kevin was up on the old bridge looking down and saw several of them in the water. It's right around the corner from the beaches! But the beaches are shallow, so it's unlikely a shark is going to sneak up on you there. Especially not when they've got all those free meals from people fishing.
One day while working, I saw a big shell on the beach. Then it moved a little! I checked it out, and it was a conch! I figured the poor thing didn't want to be on the beach but in the water. So I carried him down the beach away from the kids and crowds and put him right in the break so he could decide which way he wanted to go. This interaction turned into an obsession with the conchs that lasted our entire stay. And one time I walked out in the water and saw five of them hanging out just off the shore.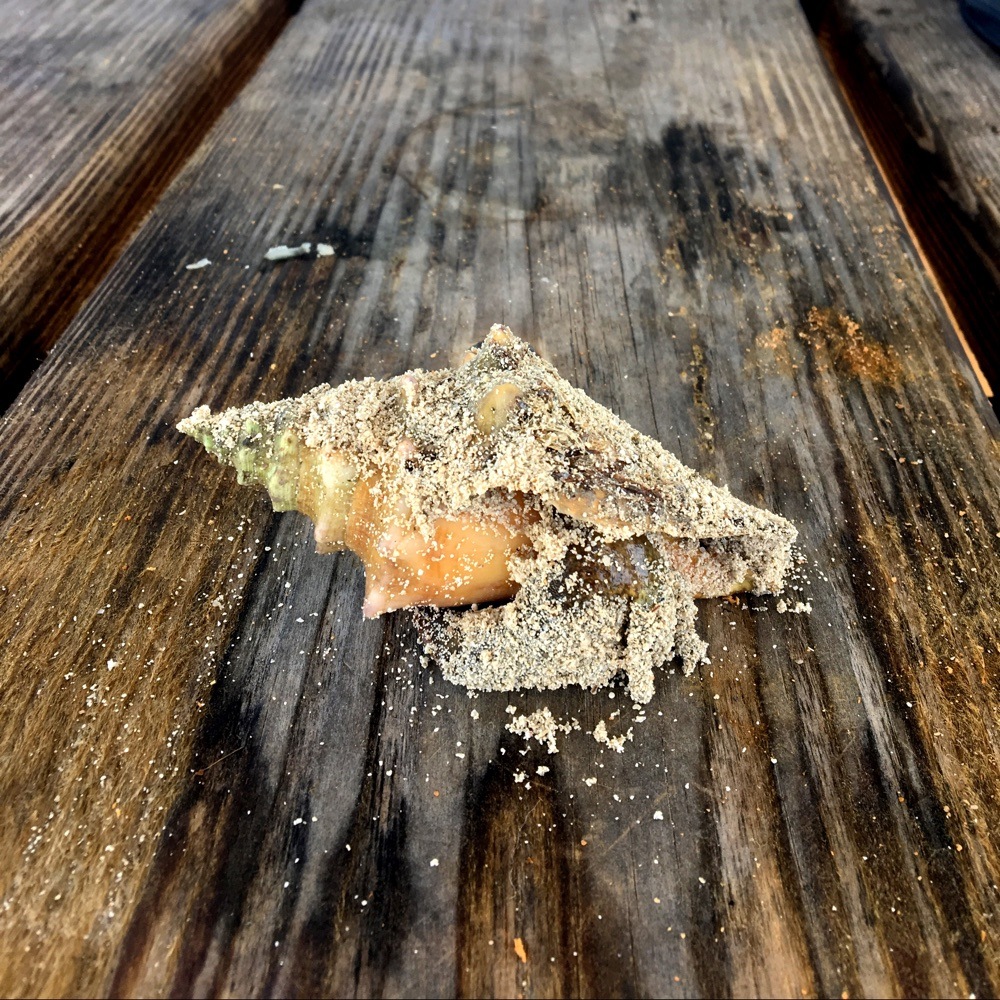 Beaches
We spent most of our time at the beach on the marina side, but we did go hang out on the ocean side beach one afternoon just beyond the kayak rentals. And that beach is fantastic! It's shallow far out. So you can go out a hundred yards and still hold yourself up on your hands and have your head above water. We spent about 45 minutes there just hanging out right before the sea grass started up again. If you snorkel above the sea grass, you'll see all kinds of little fish. It's still quite shallow well into the sea grass.
Biking
There's a decent amount of biking inside the park. If you make the whole loop, I think it's about 3 miles. And up at the opposite end of the park from the campground is another large beach and a short nature trail.
We left the park a few times to get in a little more exercise. One morning we rode all the way to Big Pine Key and the National Key Deer Refuge to see the endangered Key Deer and check out the nature trails. We saw an alligator at the blue hole. He just hangs out right under the observation platform. You could also see turtles swimming around. Otherwise, there wasn't much to this park.
The Jack Watson Nature Trail nature trail was a little more substantial. The alien vistas made for some epic photos. Other than a tiny lizard, we didn't see any notable wildlife. And remember the whole point of the trip, to see Key Deer? We saw none. Zero. Nada. But we did get in a 20-mile bike ride. Don't worry; we got to see some on another trip. We were starting to think they were like drop bear, fake.
Provisions
Bahia Honda is between Marathon and Big Pine Key. So you have some options for shopping. There's a Winn Dixie on Big Pine Key. On Marathon, there's a Winn Dixie, a Publix, and a health food store & cafe called Food For Thought.
So, despite the fact that the 4G signal at Bahia Honda in the campground is pretty much null, we managed to get plenty of work done and see the sites in our short stay there.
About the Author
vegan. full-time traveler. rv dweller. food lover. cow petter.