Taking the Winnebago Out On Our First RV Trip
For our first RV trip, we didn't get very far. But that was by design. Stone Mountain Park, east of Atlanta, is a mile from where we store the Winnebago. But we made the trip a bit longer because we went to fill up on propane – our first fill up! Even that only added a few miles to the journey.
Tak is also camping for the first time. Here she's excited about the car ride because those are always fun, but after this first trip, she gets excited every time she sees us prepping to camp. I'm glad we could take her with us a few times.
Our First Set-up On Our First RV Trip
Now, you should in no way consider this a review of Stone Mountain Park. Our focus was on getting set up and learning how to use our new house on our first RV trip. I think they have a pool. And there's a laser show. Some trails. You can hike or take a tram up to the top of Stone Mountain. Check out the "heroes" of the Civil War carved on the side. Etc. It has some racist history.
The camping spots were mostly nestled in the trees, fully shaded. Score! Plus, it was the third weekend in May, so the Summer blast furnace hadn't yet started. Unfortunately, we were a little bit too nestled in the trees and couldn't completely extend our awning.
Here's another view of our spot. We're up on a small hill and have a view of the lake through the trees.
This cloudy black mess is what came out when we first hooked up the water. Mmmm, charcoal water. That can't be good! Kevin did something, I don't know what, and it cleared up. Maybe one of the filters didn't get flushed quite enough.
First Dinner in the RV
For these first camping trips, I tried to make meal prep as easy as possible by preparing as much as possible ahead of time at the house. That first day wore us out, so I made the laziest food that I brought. These Gardein Sweet and Sour Porkless Bites were that lazy food.  I fry them up in a pan and then serve them over rice with some vegetable, usually steamed broccoli, but since this was an extra lazy meal we had frozen green beans, microwaved. And I'd already made the rice at home. So everything came together really fast.
And we weren't the only ones worn out.
First Breakfast in the RV
We had pancakes for our first breakfast in the RV. I had one container with all the dry ingredients in it and another with the wet ingredients and just combined them. I made them on this Lodge reversible cast iron griddle/grill pan that I've had forever. I couldn't use it at the house because it didn't work well on my electric stove. But it's awesome on our propane stove in the RV.  It fits right over the two back burners and is perfect for pancakes. And I bet we could use it on a grill outside too.
On Saturday, we had to leave the campsite a couple of times to get various things. On the way back from the trip I made, about 60 geese crossing the road delayed me. I didn't mind. JUST LOOK AT THEM!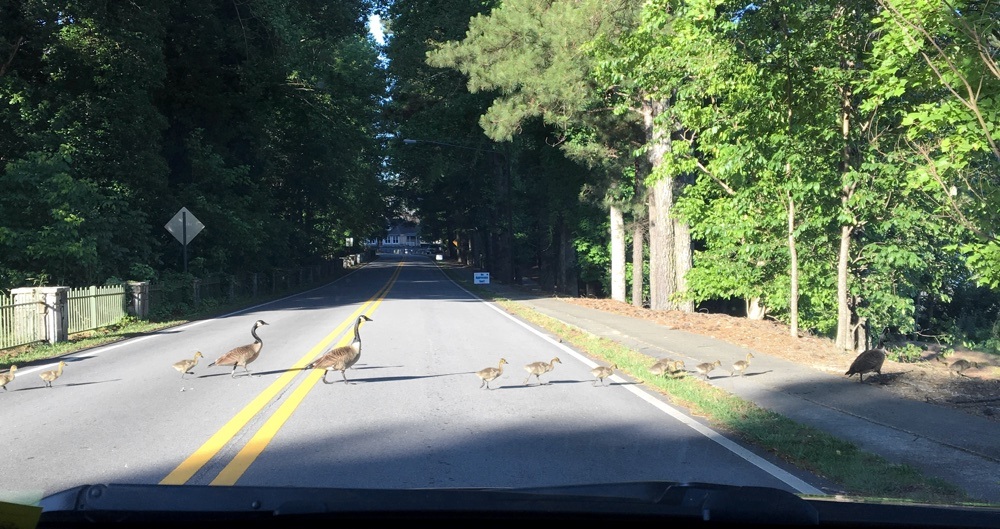 For lunches, we had vegan cold cut or peanut butter and jelly sandwiches which kept things fast and easy. No pictures. I'm sure you've seen a basic sandwich before.
Scenery at Stone Mountain Park
The park did yield up some lovely views. And we had plenty of opportunities to take them in while walking the dog. It was cloudy most of the weekend and rained a little, but we didn't mind.
Dinner Outside
The second night, we had tacos for dinner. Because tacos rule. Even fake Americanized ones. We heated up standard hard corn shells in the oven and filled them with vegan burger crumbles mixed with a taco spice packet (can't remember which brand of either). Then we topped that with Daiya cheese shreds, crappy iceberg lettuce shreds (because that's what goes on fake tacos), Tofutti Better Than Sour Cream, salsa, and I think I was too lazy to provide a real vegetable. It wasn't raining so we got to eat outside!
Moving Sites
We added an extra day to our stay to make it a 3-day weekend. Sites right on the water opened up, so we moved to one of those where we could finally fully extend our awning. Also, we were right on the water.
Yeah, that was alright. Tak's favorite thing is to walk around in ankle deep water while drinking it, so she was in doggie heaven. And we had some critters visit. Geese and ducks would come by regularly. And the Canada geese weren't aggressive and nasty as they can be.
But our favorite was this heron. It apparently spent time walking laps along the shore. I first saw it across the lake from us; then it came past our site. We saw the heron stroll by a few more times as well.
Getting Work Done
Oh, I forgot to mention. We also spent some time getting work done on our first RV trip. I usually like to work weekends and run errands during the week while everyone else is at work and out of my way. So we brought our camp chairs right down by the water and GTD. Our Wi-Fi reached just fine. You're going to have to wait for Kevin to post about our internet set-up. That's his domain.
And while we were working, the dog was on a long tether that enabled her to stomp around in and drink all the lake water she wanted. Of course, I had to get up and untangle her from something every five minutes. But it still worked out pretty well.
The Last Supper
Okay, that's a little dramatic. But we didn't want to leave. Our first RV trip was so peaceful compared to where we live and hang out. I'm sure a year from now we could come back and find it unbearably packed and full of people.
And I can't for the life of me tell what's on that bun. That's what I get for waiting so long to write up this post. It might be leftover seitan. It doesn't look like a burger. Ugh. Anyway, whatever it was, it was vegan. And we cooked it inside.
So that was our first RV trip! Nothing too terrible happened. Most things worked. The bed was reasonably comfortable. Our next outing, we head up into the mountains.
About the Author
vegan. full-time traveler. rv dweller. food lover. cow petter.