Flight around Mt. Denali
This video is a long one, but it's worth it! Come along as we take a flight around Mt. Denali and then bus back through Denali National Park & Preserve.
Flight around Mt. Denali and then on to Kantishna in Denali National Park
We took a 6-seater prop plane with Kantishna Air on a 55-minute scenic fly-by of Mt. Denali. Our pilot Roger was awesome and has been flying the area for 40+ years.
We were so lucky that we got clear views of the mountain. It looks otherworldly up there!
The glaciers, the untouched snow – it was just stunning. We don't have the words to describe how beautiful it was. You're just going to have to watch the video to get a taste.
Kantishna Air also has a lodge at Kantishna where you can book a room. When you arrive, you hang out there until the next bus comes. You can also buy lunch as part of your package, and they will serve it there. And yes, they have vegan options! We brought our lunch though.
A bus ride from Kantishna back to the visitors center
We took the non-narrated bus from Kantishna back to the front of the park. You can get off of these buses, go for a hike, and then catch another.
We'd planned to do a hike in Eielson but the trails we closed because there was a mama and two baby grizzly bears out there. But, they were right there, and we got to see them!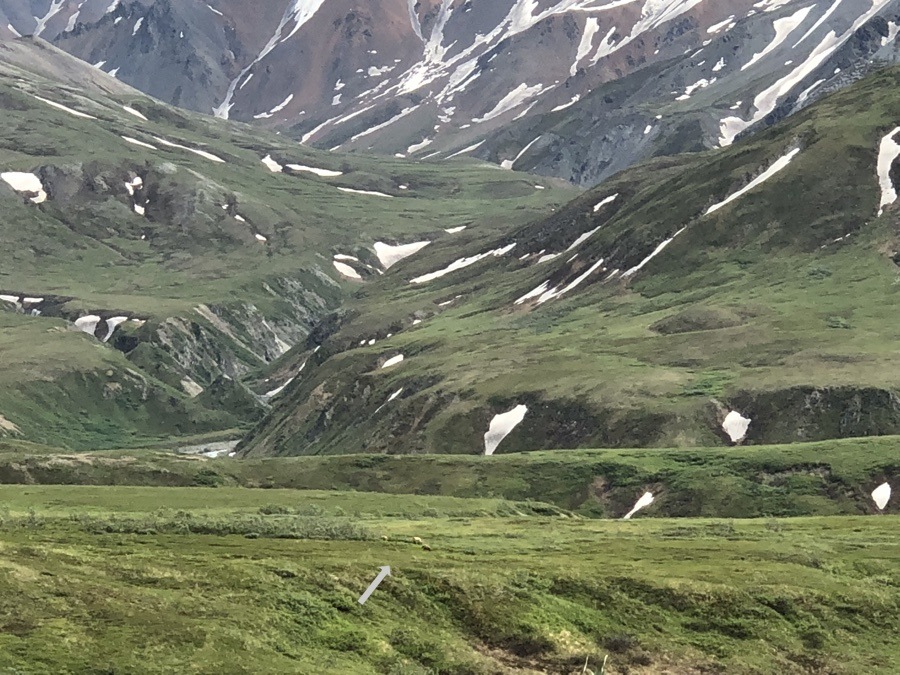 You'll see the most animals between Eielson and Toklat. We saw more bears and caribou.
The entire bus ride with bathroom breaks lasted about 4 1/2 hours. If you tend to get motion sickness, you might want to take some medication for that. The first hour or so is a bit nausea-inducing.
Wildlife count for the day:
106+ caribou!
5 moose
2 adult grizzly
4 baby grizzly
14 Dall's sheep
1 harrier falcon
BOOM!
We can't recommend this flight around Mt. Denali enough. If you're up here and can only choose one excursion, the flight in and bus out is the way to go! Do yourself a favor though and leave at least a few days to explore Denali National Park. It's huge and there's so much to do!
Next post: Hiking in Denali National Park
About the Author
vegan. full-time traveler. rv dweller. food lover. cow petter.