Laura S. Walker State Park – we finally made it out of Florida!
Our next stop is Laura S. Walker State Park in Georgia. But first, we have to escape Florida. And if it seems like we were in Florida for a long time that's because we were – about five months!
Laura S. Walker State Park Campground
I don't think we had any particular expectations when we landed at Laura S. Walker State Park, but it turned out to be quite lovely!
The campground is dotted with tall pine trees, just enough to give you some shade but their bare trunks don't do much for privacy. The campsites were spaced out well enough that you didn't feel like you were on top of people anyway.
The campground gently slopes towards the lake and gives many of the sites beautiful views. Check out our lake view from the front window:
Between fog and sunsets, we took a few amazing photos.
Another nice benefit at this campground was the laundry facilities. Look how cheap it was! When's the last time you did a load of laundry for $0.75? We haven't seen it that cheap since either.
We also saw this little guy hanging out on the outside bathroom wall. We enjoy close encounters with non-dangerous reptiles.
Activities at Laura S. Walker State Park
There's a ton of stuff to do in and around Laura S. Walker. You can boat on the lake or golf at the nearby course. We didn't do those things. Instead, we took advantage of the trails [map pdf].
There's a trail right across from the campground entrance. And along with it, you'll find a few gopher tortoise burrows.
And if you're lucky, you'll see a gopher tortoise! We did but didn't get the camera out fast enough to get his good side.
The trails meander through the woods and alongside a creek. You can bike or walk them.
There's also a trail on the other side of the lake. We rode our bikes over there to check it out. If you're into swimming with alligators, you can do that. We opted out.
If you do head to the other side of the lake, there's a wildlife observation platform that'll give you some lovely views of the lake.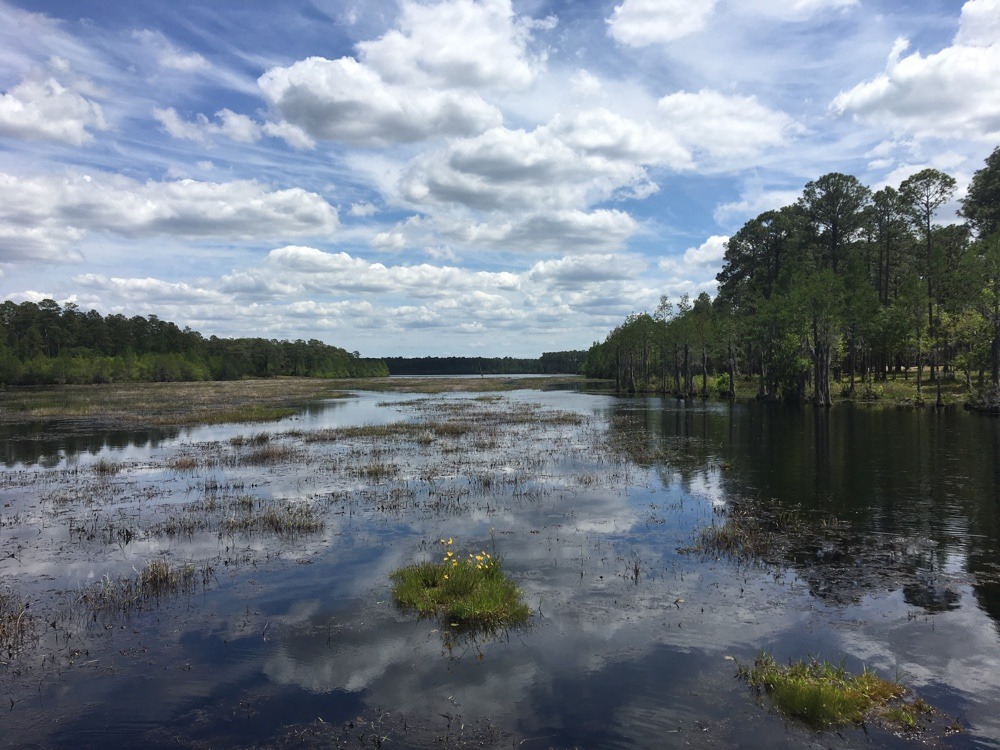 The trail was under construction on the other side of the platform. Eventually, and maybe even now, it'll connect with the path across from the campground.
The sunsets put on a nice show here too.
The campground was quiet and sparsely populated during the week. But it was booked up for Easter weekend. So we had to move on. We had a pleasant visit and would recommend stopping by for a few days.
About the Author
vegan. full-time traveler. rv dweller. food lover. cow petter.