Liard River Hot Springs and surrounding wildlife
We stayed two nights at Liard River Hot Spring Provincial Park to soak in the springs and recover from two hard days of driving. You can soak 24 hours a day if you stay in the campground. You'll find more about Liard River Hot Springs in our last post.

In search of wildlife
Since we saw so many animals on our way into Liard River Hot Springs, we took the car out to see what we could see. You can pull your car off on the shoulder to take photos of the animals, but an RV won't fit there. You'd have to wait for a turn-out.
Wild animal tally: four bison plus another two dozen that we saw on the way in, four bears including babies, and finally, one moose! We have bear, bison, and moose on the video.
The moose is a regular visitor to the hot springs. The park rangers said she comes back regularly to have her babies.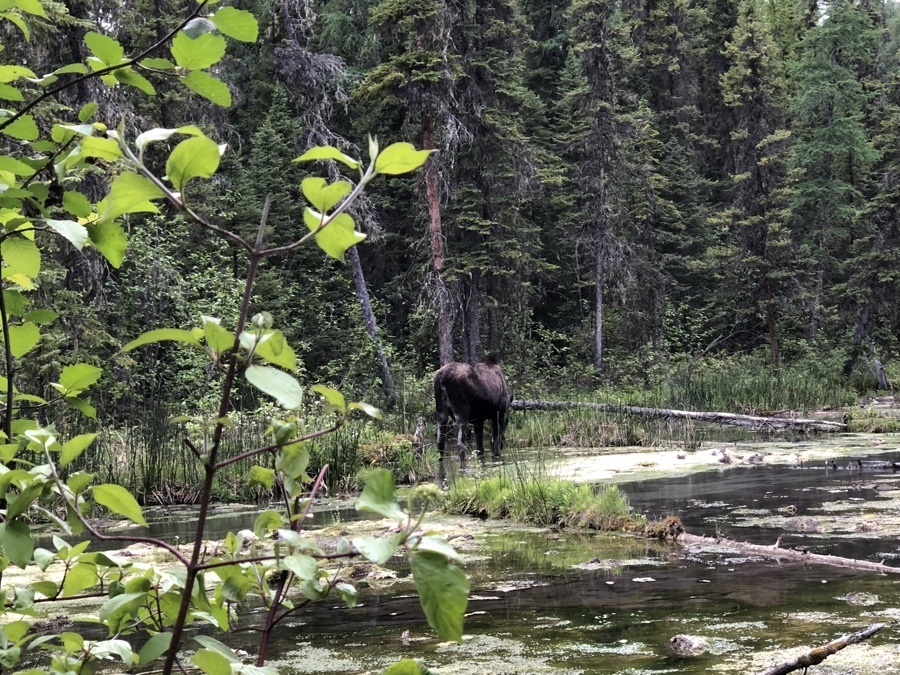 Smith River Falls
We also followed a rough dirt road about 2 km to see Smith River Falls.
Don't take anything much larger than a van or a very small class C down that road. There's only a cramped turn around at the end, and the road is super bumpy. The falls are beautiful, and it's worth driving a car down there. There is a hike, but it involves using a cable to repel down a hill and climb back up. We weren't up for that.
All in all, Liard River Hot Springs was the perfect place to recharge and get ready for the next part of our journey.
Next post: Watson Lake & the Sign Post Forest
About the Author
vegan. full-time traveler. rv dweller. food lover. cow petter.